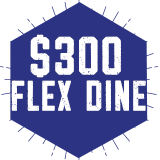 Same Value as Cash at Campus Dining Locations
6 Free Bonus Meals for UCI's Dining Halls
All On Your UCI ID Card
$300 FlexDine to be used at any of our locations, 7 days a week. Make sure you have what you need to buy what you want! FlexDine and meals are available for the entire academic year. Get 6 Bonus Meals to use at any of our all-you-can-eat dining halls.
REMINDER - You must complete a meal plan contract before payment.